Marhaba and welcome to the Arabic Genie website!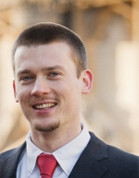 My name is Max Maddocks and I'm an enthusiast for all things Arabic. That includes language, culture and politics. My goal is to make learning Arabic easier for everyone and I am currently developing a number of innovative techniques that are based on mnemonics (memory aids).
I am the author of The Magic Key To The Arabic Alphabet, a course that makes learning the Arabic script extremely easy.
You can download my second book on the Arabic language – 200 Arabic Words You Already 'Know' – for free directly from my webpage. The book includes words that are in common beween English and Arabic and that can be readily integrated into your Arabic vocabulary, regardless of your level.
Lately, I have translated a large number of Arabic tattoo designs and have published a huge collection in my digital book Arabic Tattoos.
Apart from Arabic, I enjoy learning languages such as Persian and Chinese. I also speak Spanish, German and French, and have a good reading knowledge of Dutch. I've got an MA degree in Near And Middle Eastern Studies from SOAS, London, and an MPhil in Philosophy from the University of Cambridge.