Master 200 Arabic Words Effortlessly With This
Free

Report…

From the desk of: Max Maddocks, MA, MPhil, Founder of ArabicGenie.com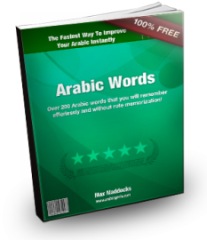 Arabic words can be extremely hard to memorize, especially when relying on hours of painful rote memorization.
That's why I looked at ways to make learning Arabic vocab easier. And what could be easier than already knowing the words you are supposed to study? Well that's exactly what this free Arabic words report is about.
It contains 200 Arabic words that you already know from English. Words such as "cave", "telephone", and "mechanic", or in Arabic "kahf", "talifoon" and "meekaaneeki". The best thing about this report is that it is completely free and available for instant download.
You don't need to know the Arabic script – everything is transliterated with English letters.
To download your free copy of this report simply enter your valid email address in the field below. You will also receive a free subscription to my Arabic learning tips newsletter.
The contents of the free Arabic words report:
The 200 Arabic words are organized into 13 chapters, each dealing with a different area. The areas are:
Food and Drinks
Animals
Religion
Electronics and Technology
Measurements
Politics and Society
Clothing

Academic
Entertainment and Sports
Nature
Transport and Travel
Materials and Industry
Miscellaneous
Don't delay – sign up now to receive your free Arabic words report!
If you prefer not to sign up to the newsletter you can download the report directly here.