Just like in English, there are many different ways to ask questions in Arabic. But, fortunately all types of questions can be asked using just a few different questions words. In this article you will learn all common Arabic question words and how to use them.
First, here is an overview over the different types of questions that can be asked in Arabic.
Arabic questions words and their English equivalents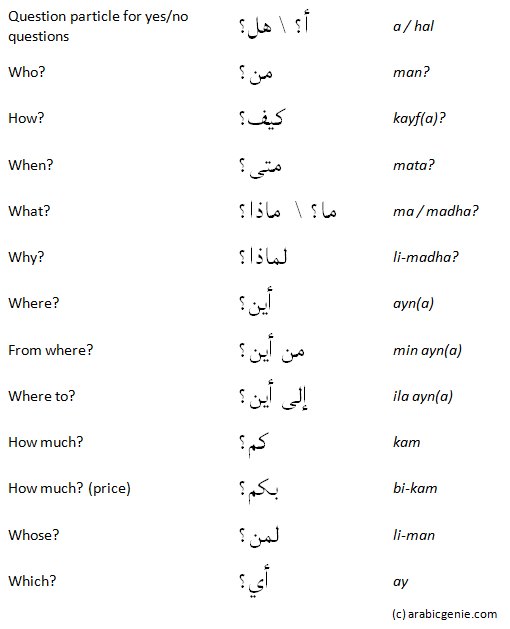 1. أ؟ \ هل؟ a / hal – question particle
hal and a are both used to introduce a question that can be answered with a simple 'yes' or 'no':
هل أنت مجنون يا حمار؟
hal anta madjnoon ya Himaar?
(Are you crazy, you donkey?)
أ نشرت كتابا؟
a nasharta kitaaban?
(Did you publish a book?)
The main difference between hal and a is that only a can be used for a question with a negative statement, e.g.:
أ ليس كذلك يا سيدي؟
a laysa kadhalika ya sayyidi?
(Isn't that true sir?)
أ لا تدرس العربي يا أحمد؟
a la tadrusu l-arabi ya ahmad?
(don't you study Arabic Ahmed?)
2. من؟ man – who?
من أرسل لي رسالة حب؟
man arsala li risalata Hubbin?
(Who's sent me a love letter?)
من يساعدني؟
man yusaa3iduni?
(Who helps me?/Who is going to help me?)
3. كيف؟ kayf(a) – how?
The ending 'a' is often dropped, especially in dialects.
كيف أكلت التماسيح الرجل؟
kayfa akalat it-tamaseeHu r-radjul?
(How did the crocodiles eat the man?)
كيف يعمل هذا الجهاز؟
kayfa ya3milu hadha l-djihaaz?
(How does this machine work?)
4. متى؟ mata? – when?
In some dialects this is pronounced emta.
متى فزت في اليانصيب؟
mata fuzta fi l-yanaSeeb?
(When did you win the lottery?)
متى تزوجني؟
mata tuzawwidjuni?
(When are you going to marry me?)
5. ما؟ \ ماذا؟ ma / madha – what?
There are two ways to ask "what" in Arabic, i.e. ma and madha. In general, ma is used for questions without a verb, while madha is used when there is a verb in the question. Examples:
ما هو سبب غيابك؟
ma huwa sababu ghiyaabik?
(What is the reason for your absence?)
ماذا سنأكل غدا؟
madha sa-na'kulu ghadan?
(What will we eat tomorrow?)
The exception to this rule is when you ask "what about?":
ماذا عن الحب؟
madha 3an il-Hubb?
(What about love?)
6. لماذا؟ limadha – why?
As you will no doubt have noticed, limadha is composed of li ("for") and madha ("what"), i.e. "for what?" = why?
لماذا تركت الحصان وحيدا؟
limadha tarakta l-HiSSaan waHeedan?
(Why did you leave the horse alone? – the title of one of Mahmoud Darwish's anthologies)
لماذا استقال البابا؟
limadha istaqaala l-baaba?
(Why did the Pope resign?)
7. أين؟ ayn(a) – where?
Similarly to kayfa, the final 'a' ending of ayna can be dropped. Related questions are:
من أين؟ min ayna – from where?
and
إلى أين؟ ila ayna – where to?
Examples:
أين الحمام من فضلك؟
ayna l-Hammaamu min faZlik?
(Where's the bathroom please?)
من أين جاء محمد؟
min ayna dja'a muhammad?
(Where did Mohammed come from?)
إلى أين يذهب كل يوم؟
ila ayna yadhhabu kulla yawmin?
(Where does he go to everyday?)
8. كم؟ kam – how much? / how many?
كم عمرك يا بهلوان؟
kam 3omruka ya bahlawaan?
(How old are you, you clown?)
كم تحبني؟
kam tuHibbuni?
(How much do you love me?)
Now, when you're asking for a price you usually say:
بكم؟ bikam
بكم كيلو الحشيش؟
bikam keelu l-Hasheesh?
(How much is a kilo of the Hashish (or grass)?)
9. لمن؟ liman – whose?
This is composed of li ("for") and man ("who"), i.e. "for whom" = whose?
لمن هذا السلاح؟
liman hadha s-silaaH?
(Whose weapon is this? / Whom does this weapon belong to?)
10. أي؟ ay – which?
أي كتاب تقصد؟
ay kitaab taqsid?
(Which book do you mean?)
اي نوع من الرجال تفضل النساء؟
ay naw3 min r-ridjaal tufaDDilu n-nisaa'
(Which type of men do women prefer?)