Danielle, a reader of this blog, asks for the following Arabic tattoo translation:
Hi Max,
[…]
i'm hopeing you can translate the following:
"have strength and live this life"
this would be mental strength, and to live… have experiances rather than to just exist.
I really do hope you can help me and I thank you in advance for you time.
kind regards
danielle
I'm happy to oblige. I give my translation and the reasoning behind it below. Let's start with the first part:
Have Strength
The phrase "have strength" is best translated as كن قوياً (pronounced kun qawweeyan), which literally means "be strong". The word قوي (strong) can refer to both physical and mental strength.
However, in Arabic the verb and the adjective both change according to whether the imperative (be sstrong!) is addressed to a man or a woman. Since you are a woman (judging from your name) I assume you would want to address yourself. So here is the same phrase "be strong" addressed to a woman:
كوني قويةً (kooni qawweeyatan)
Live This Life
The phrase "live this life" would look a little akward in Arabic, so I took the liberty to translate "live your life" instead. This would be عش حياتك (pronounced 3ish Hayaatak). Again, since we are addressing a woman, this would change to عيشي حياتك (pronounced 3eeshi Hayaatak).
Both Parts Together
So the whole sentence "be strong and live your life" would be
كن قوياً وعش حياتك (kun qawweeyan wa 3ish Hayaatak), when addressing a man
and
كوني قويةً وعيشي حياتك (kooni qawweeyatan wa 3eeshi Hayaatak), when addressing a woman.
Male Or Female?
Generally speaking, the male form is used if the sentence is meant to be a general saying or phrase, not addressed in particular to a man or a woman. The female form is used when the sentence is addressed specifically to a woman. In your case I would think that the female form is preferable, as you are addressing the sentence to yourself (a woman).
That's why I produced the final Arabic tattoo design using the female form. Below is the Arabic tattoo design in five different fonts:
By the way, the two lines (//) above the last letter of the second word from the right are not really necessary and if you prefer you can remove them if you think the tattoo would look better without them. They merely indicate that the word takes the accusative case, but it's not really required to indicate this in writing…
Let me know what you think of the design. I hope you like it.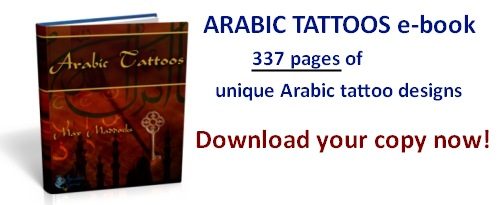 If you want to delve deeper into the Arabic language I suggest learning the Arabic script yourself. You might want to try out my easy method for learning the Arabic writing system here.