Today I received an e-mail from a reader of this blog who is struggling to decipher a piece of Arabic calligraphy. Here are the picture and the e-mail:
Hi

I'm planning on getting a tattoo. I have found this design but I don't know what it says. I have even asked my mother who is a native arabic speaker, but because of the calligraphy style its really difficult to read even though you can differentiate the letters. I would really appreciate if you could take a look.

Thanks very much, look forward to hearing from you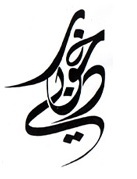 Well, I'll admit that it took me a few minutes myself to figure out what the writing says, not least because I was misled by my knowledge of Persian and suspected that part of the writing read خوب – "good". However, it then dawned on me that the writing is divided horizontally, with the upper word reading خور (khawr) and the lower دبي (dubay). Below I have coloured the upper word red and the lower word blue: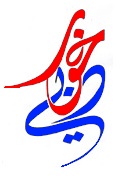 Hence, the calligraphic writing refers to خور دبي (khawr dubay), or "Dubai Creek" in English – a famous geographical landmark in Dubai.