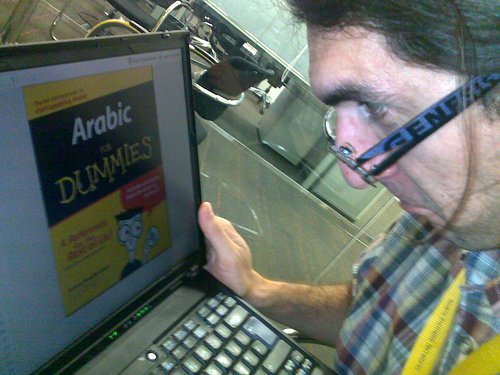 In this post I'll share with you how I'd go about learning Arabic, knowing all the things I know now.
The Arabic script
I would start of by focusing on the Arabic alphabet and the sound system, trying to learn the script as quickly as possible by associating the shapes of the letters with their sound. Materials I would use would be my own book "The Magic Key to the Arabic alphabet", as well as numerous online resources.
Modern Standard Arabic
Next, I would start by learning Modern Standard Arabic (MSA). This is the type of Arabic closest to Classical Arabic and the language of the media and education. While most Arabs don't use MSA to communicate with each other in regular settings, all of them will be able to understand it due to its prevalence in the media. (Some, though, might not be able to speak it that well).
My materials of choice for learning MSA would be Assimil's Arabic course (preferably the old one that has a kind of story connecting all the lessons), and then the "al-Kitaab fi taallum…" series, especially parts two and three that provide a lot of interesting content. At the same time, I'd alternate the lessons with material from the wonderful "al-kitaab al-assaasi" series, that is presented entirely in Arabic.
The way I'd use these books would be to focus a lot on listening to the audio material, even speaking along with it after having listened to it several times (I'd slow the material down at first if needed and speed it up later).
At the same time, I'd make good use of the plentiful video resources available online, seeking out content that is stretching, but engaging, such as short clips from talkshows or news announcements.
To hone in on writing skills I'd copy out some of the learning material mentioned above. In addition, it would be necessary at some point along the line (but not too early) to get hold of an educated native speaker with whom I'd practice my speaking and writing skills.
Adding a dialect
After reaching a solid level in MSA, I'd add a dialect that is widely spoken and relatively homogenous across a number of Arab countries, such as the Levantine dialect spoken in Syria, Lebanon, Palestine and Jordan. Learning the dialect will be relatively easy due to similarities with MSA. Some helpful material I would use would be Pimsleur's Eastern Arabic course, as well as a lot of songs and videos from Arabic soap operas found online.
Experiencing Arabic "in the wild"
After a few months of learning, I'd definitely want to travel to an Arabic speaking country to try out my skills and give myself a motivation boost. A high priority here would be to seek out accommodation in a host family and to shun other non-native speakers in favour of the natives as far as possible. The country would of course be where the dialect I was learning would be spoken.
After such a thorough regime of learning, I could proceed to focussing on learning more dialects or on appreciating Arabic literature or simply on travelling through the Middle East, appreciating the beautiful countries and the nice people.
Image credit for picture on top: jadijadi