The Arabic word تفضّل tafaDDal is a commonly-used and highly-versatile expression.
Depending on context, it:
1. Expresses an invitation to do something: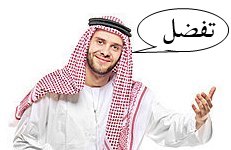 تفضل اجلس واشرب شاي tafaDDal idjlis wa shrab shay – please, sit down and drink some tea.
تفضل إلى الدكان tafaDDal ila d-dukkaan – please, take a look at my shop.
تفضل إلى بيتي tafaDDal ila beiti – please, come to my house.
2. Expresses approval/giving permission of a planned action:
A: ممكن اشوف المهمول الذهبي؟ mumkin ashuf al-mahmool al-dhahabi? – may I see the golden mobile phone?
B: تفضّل tafaDDal! – yes, please go ahead. / yes, please help yourself.
3. When letting someone else pass first (e.g. through a door).
4. Used when presenting or handing over something: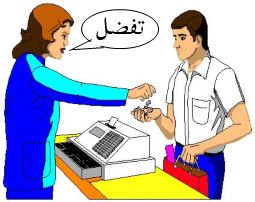 "Here's your change."
تفضل هذه هدية صغيرة لك tafaDDal, hadhihi hadeeya sagheera lak – here, a small present for you
Derivation
tafaDDal derives from the Arabic root faDl, which means "grace" or "kindness". The form tafaDDala (tafa33ala) takes on the meaning "to be so gracious, to be so kind". Grammatically speaking, tafaDDal is the imperative form of this word, i.e. "be so kind!, be so gracious!". If addressed to a woman it needs to be changed to tafaDDali. If addressed to a group it changes to tafaDDalu.
The Arabic for please – من فضلك min faDlik – derives from the same root and literally means "from your kindness", i.e. if you comply with my request it is from your kindness that you are doing so.
Pronunciation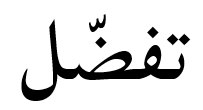 The word tafaDDal contains a sound that is sometimes difficult for non-native speakers to pronounce, i.e. the Daad. Whatsmore, double emphasis is placed on this letter in the word.
In essence, the D sound is a darker, more emphatic version of our regular d sound. The main trick to get this right is to realize that the a that immediately follows this letter needs to change to sound a little darker (i.e. not so open as a normal a sound). You can listen to the Daad sound a few times here to get a feeling for the pronunciation.
An interesting thing to note is that the Daad often changes to more of a z sound in many dialects; however, I've never heard a speaker do this in the word tafaDDal.