While Arabic tattoos can be aesthetically pleasing if the right calligraphy is used, there are a huge number of cases where neither the person getting the tattoo done nor the tattooist have the slightest idea of Arabic. The result is often disastrous: incorrect or ugly Arabic writing.
I'll show you some bad examples and help you avoid some of the common mistakes. The same considerations apply equally to Persian, Urdu or Pashto tattoos, because these languages too use some form of Arabic script.
1 Disconnected letters
I guess the main culprits for this are people's word processors that are not equipped to deal with the Arabic script. They don't know how to interpret the letters and just represent them each individually. Arabic is a cursive script: the majority of letters are connected, like in handwriting. For example, below you can see the Arabic for "television" as it should be written:
And here the same word, but written incorrectly, with the letters disconnected:
Let's see an example of this "in the wild":
To be honest, I can't even have a guess at what the word is supposed to mean.
2 Disconnected AND written from left to right instead of from right to left
Well, most people know that Arabic – unlike European languages – is written from right to left. However, some people don't take notice of that and try to write Arabic from left to write.
Like this person here: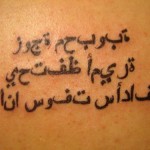 3 Offensive tattoos
This is probably the worst kind of mistake. While the other errors can make you look foolish or silly in the eyes of Arabic native speakers, having offensive words tattooed on your body can get you in a whole lot of trouble. Many Arab societies are highly conservative and will frown upon those insulting the culture or religion. Here are two particularly bad examples of this:
The Arabic reads كافر (kaafir) or "unbeliever" in English. This is an offensive term used derogatively for followers of religions other than Islam or atheists. Someone professing to be a kaafir himself would be seen as attempting to mock Islam and this is not taken lightly in most Arabic countries.
Can it get worse? Well, judge for yourself: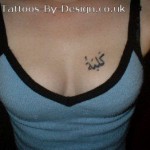 This lady seems to think it's a good idea to have the Arabic word for "female dog" (bitch!) engraved on her body. Although the Arabic doesn't quite have the same meaning as the English word "bitch", nevertheless "dog" has a pretty negative connotation in the Arab world and is used to insult someone.
Avoid the mistakes
So, what should you do if you are thinking of getting an Arabic tattoo? Well, most importantly try to avoid the four mistakes I described. If you are really serious about getting an Arabic word tattooed on your skin, then you should consider learning the Arabic writing system. It's much easier than it seems and it is well worth the time and effort spent on it to know with certainty that your beautiful Arabic tattoo is written correctly.
Apart from learning the Arabic script yourself, you should make sure the source for your Arabic tattoo is reliable and trustworthy. For example, you could get my Arabic Tattoos eBook or have me make a custom tattoo for you.