Note: if you are looking for love in Arabic please click here.
Today I received the following email from Paige, a reader of this blog:
Hey! I've been searching all over the web for a translation. I want to get "faith, hope, love, but the greatest of these is love" tattooed on my hip. I tried looking for some translations but I can't find any.
Well, I'm not too well versed in the Bible, but when I read the phrase I knew it was from Corinthians. So, I thought that the best translation and the most authentic would be the one found in the Arabic version of the Bible. Luckily, there is an Arabic translation of the Bible (not surprising given the fact that one of the oldest Christian sects are the Egyptian Copts) and I found the verse in question straight away.
So here is the translation for "Faith, hope, love, but the greatest of these is love":
الإيمان والرجاء والمحبة، هذه الثلاثة ولكن أعظمهن المحبة
And as pictures:
As you can see there are two different versions, each version has the same phrase written in five different fonts. The versions differ insofar as in the first version all the short vowels and other harakaat are indicated. These are the little signs above and underneath the letters that are absent in the second version (the sign that looks like a small "w" for instance indicates that the letter underneath is to be doubly pronounced). In Arabic these short vowels are usually not written. Yet, in the context of religious documents such as the Koran or the Bible, they are written to ensure that everyone can pronounce all the words correctly.
Now, it is your choice if you would like to have the tattoo made from version 1 (with short vowels and harakaat) or from version 2 (without short vowels).
Each version has the same phrase written in five different fonts. The fonts are:
1 Traditional Arabic
2 Simplified Arabic
3 Andalus
4 Lateef
5 Farsi Simple Bold
As far as getting the actual tattoo done, I would suggest to find a tattooist familiar with the Arabic alphabet if at all possible. You don't want to have the tattoo messed up by someone who doesn't understand how the Arabic script works.
For more Arabic tattoo designs see my new digital book that contains more than 1400 sizzling hot tattoo designs from 284 Arabic phrases and words.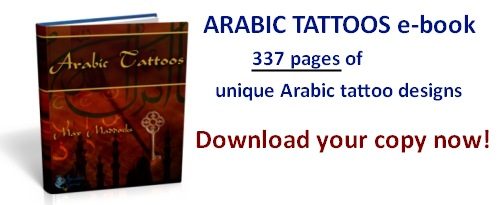 Good luck with the tattoo and do send me a picture if and when you get it done! 😉