I've received a few requests for the Arabic translation of the word "fighter". As always, there are many possible translations and I just want to give a brief overview of some of them.
The word مقاتل (muqaatil) derives from the root قتل (q-t-l), but does not necessarily imply "fight to kill". For example, someone taking part in a boxing match might be referred to as المقاتل (al-muqaatil).
The word مجاهد (mudjaahid) has religious connotations, as in "holy warrior" (or someone engaged in "jihad" of any kind).
محارب (muHaarib) implies someone engaged in war.
All three words can be used to translate "fighter", though.
In the absence of any specifications I would go with المقاتل (al-muqaatil) rather than with any of the other possible translations.
Below is "fighter" in Arabic in picture format, so as to preserve the correct formatting: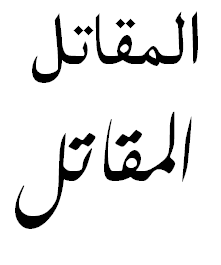 The top shows the word "fighter" in a standard script and the bottom shows it in Persian style.
Let me know if you need a tattoo design made using different fonts for this word. There are six designs for this word in my Arabic Tattoos eBook too.