Kitty sent me the following e-mail to ask for a tattoo design in Arabic for "miracle":
Hi!

My name is Kitty! I saw on internet that you translate from english to arabic! I would like to make a tattoo with the word "miracle"! I have been searching for it for months…but always found only in english, with arabic letters..! But i would like to have the arabic word with arabic letters! So if you please could help me i would be very thankful! It would mean a lot to me!

Thank you a lot!

Kitty
Miracle in Arabic is معجزة , pronounced mu3djiza.
Here are two tattoo designs for "miracle" in Arabic: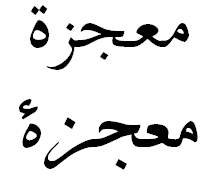 If you want to have your own custom Arabic tattoo design, then please see my offer here.