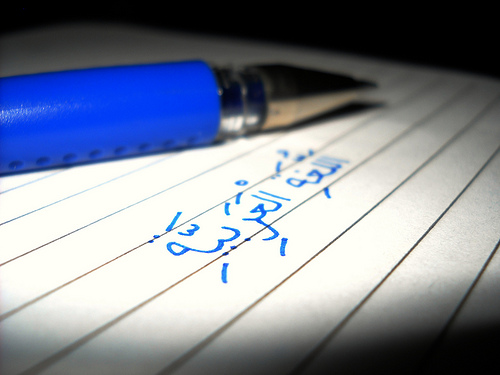 Learning Arabic for free is certainly possible, though I would always recommend buying a book or a course that can be used as the main tool of instruction. There are plenty of free resources online that can help you with studying Arabic at all levels, whether you are a beginner looking for basic language learning material or you have some experience with Arabic already and are looking for more advanced material. Explore the list of free stuff below at your leisure, but don't let the urge to explore all of these links get in the way of your learning progress.
Just a quick word of warning: Arabic is a marvellous language, but also bewilderingly diverse. There are many different dialects spoken in the Arabic world today, with different vocabulary, sentence structures and accents. However, every Arab will understand some degree of Modern Standard Arabic (MSA or fuS-Ha), the language used in the media, in writing and on formal occasions. The resources below are primarily geared towards MSA, but I have included a section on dialects too.
Free Arabic Learning Resources
General courses
This is a thorough course in Modern Standard Arabic divided into three books and accompanied by audio recordings. All of these resources are available for download for free at http://abdurrahman.org/arabic/madina-arabic.html
While not as extensive as the Madina Arabic Course, this website provides a clear introduction to the Arabic writing system, grammar and vocabulary. http://www.arabic-course.com
Alphabet
A quick and dirty intro to the Arabic script, written by yours truly. https://www.arabicgenie.com/resources/arabic-script
Omniglot provides a methodical overview at http://www.omniglot.com/writing/arabic.htm
This ArabicGenie exclusive tool allows you to click on the 28 letters of the Arabic alphabet and hear the correct pronunciation. https://www.arabicgenie.com/arabicletters.html
A compilation of videos on YouTube that make learning the Arabic alphabet a little more fun than usual, including various Alphabet songs. https://www.arabicgenie.com/alphabet-videos.html
What short vowels are and why you should care about these often marginalized little squiggles, explained by yours truly. https://www.arabicgenie.com/2009/09/arabic-short-vowels-what-you-need-to-know-about-tashkeel-and-harakaat
An easy way to remember the sounds and shapes of the short vowels. https://www.arabicgenie.com/2009/09/an-easy-way-to-remember-the-short-vowels
Of course, you could also purchase a copy of my ebook on learning the Arabic alphabet, The Magic Key To The Arabic Alphabet. Although not free, I'd like to believe it is reasonably priced. https://www.arabicgenie.com/
Grammar
Attempt at giving a thorough explanation of Arabic nouns. Maybe a little too thorough for beginners. https://www.arabicgenie.com/resources/arabic-grammar/arabic-nouns
Aziza provides clear explanations of many grammatical aspects of the language at http://www.transparent.com/arabic
Focussing mainly on verbs and their conjugation, this website has a plethora of information. http://multimediaquran.com/quran/arabic/
An essential tool for those occasionally baffled by the bewildering array of conjugation rules. Just provide some basic information (root letters and verb form) to this almighty device and it will return a full conjugation chart. http://acon.baykal.be/index.php
http://arabic.desert-sky.net/g_conj.html
Massive amount of articles dealing with many different topics of Arabic grammar. http://arabic.tripod.com/
Vocabulary
Initially I planned to sell this book on my website, but I decided to make it available for free as an instant download for the benefit of my visitors. The book contains over 200 Arabic words that are very similar in pronunciation to their English equivalents, thereby making learning the vocabulary very easy. https://www.arabicgenie.com/free-arabic-words
For those looking for a quick primer on Arabic phrases that might come in handy on travel or at the local restaurant. https://www.arabicgenie.com/resources/arabic-phrases
As of yet incomplete list of proverbs and idioms taken from John Lewis Burckhardt's book "The Manners And Customs Of The Modern Egyptians". https://www.arabicgenie.com/resources/arabic-proverbs
An article explaining how to enlarge your Arabic vocabulary. https://www.arabicgenie.com/2009/12/how-to-increase-your-arabic-vocabulary
Dialects
Essential reading for anyone trying to make sense of the dialectal situation on the Arabic speaking world. https://www.arabicgenie.com/resources/arabic-dialects
A list of Egyptian Arabic words with pronunciation tips. https://www.arabicgenie.com/resources/arabic-dialects/egyptian-arabic
Primarily aimed at those with at least a rudimentary knowledge of Modern Standard Arabic (MSA), this two part series of articles aims to explain the main differences and idiosyncrasies of the Egyptian dialect.
Part 1 https://www.arabicgenie.com/2009/08/egyptian-arabic-a-quick-introduction
Part 2 https://www.arabicgenie.com/2009/10/egyptian-arabic-phrases-words
A solid course on the Moroccan dialect. http://www.speakmoroccan.com/
Provided in a number of PDF documents, this website has much of value for the learning of the Moroccan dialect. http://friendsofmorocco.org/arabictoc.htm
The first three chapters (including audio!) are provided free of charge by the author, with the remainder of the book available for purchase. Update: It seems that the author has limited the free options to the download of the first chapter of the book and accompanying audio. You need to subscribe to the newsletter to receive these. The first chapter is a good introduction to Syrian Arabic. http://syrianarabic.com/
Quranic (Koranic) Arabic
https://www.arabicgenie.com/resources/the-quran
Excellent Blog dealing with (mostly) Koranic Arabic. Unfortunately, it has been discontinued since April 2008. That shouldn't keep you from exploring the archives though. http://arabicgems.wordpress.com/
http://transliteration.org/quran/home.htm
Dictionaries
https://www.arabicgenie.com/2010/07/arabic-dictionaries
The best online English-Arabic-English dictionary by far. It's extremely comprehensive and provides a lot of words to choose from. http://dictionary.sakhr.com/
Many people might know that Google has a machine translation service, but they may not know that Google has a useful dictionary feature too. http://www.google.com/dictionary?source=translation&hl=en&langpair=ar|en
Often very useful in listing all the alternative translations for a word. http://www.wordreference.com/enar/
Miscellaneous
Aimed at those with a solid grasp of Arabic, this article explains how to make your knowledge of Arabic work for you when you are learning Persian. https://www.arabicgenie.com/2010/06/learn-persian-from-arabic
How to get closer to being mistaken for a native speaker (or at least be understood by Arabic speakers). https://www.arabicgenie.com/2009/12/perfect-arabic-pronunciation
Arabic TV
A great news channel with regional reach. http://www.livestation.com/channels/57-al_arabiya_arabic
You have probably heard of it, even if you haven't studied Arabic before. http://www.livestation.com/channels/43-al-jazeera-arabic
http://www.livewtv.com/arabic_tv.htm
An Excellent resource of various short clips taken from Arabic TV programmes or movies and annotated with transcriptions and translations. http://thearabicstudent.blogspot.com/  
This list is not exhaustive, so please let me know in the comments below if you've come across a useful website that might help others to learn Arabic for free.
Image credit for picture on top: Abdillah Wicaksono