I have seen my fair share of bad Arabic tattoo translations. But, in recent weeks one of them has especially caught my eye.
The Arabic phrase انا معفن ana mu3affan is purported to mean "I appreciate life" whereas it actually means "I am rotten" or "I am putrid". The trouble is that many people keep reposting, reblogging and retweeting the bad translation, thereby making it seem that the majority of users agree that this is the correct translation.
This has gone so far that some unsuspecting people have taken this bad translation to their tattoo artist and have actually gotten it inked on their skin: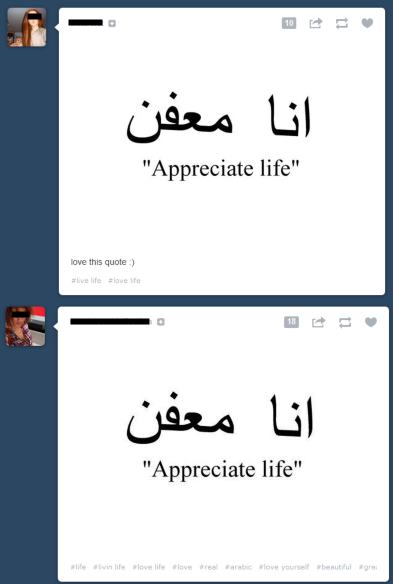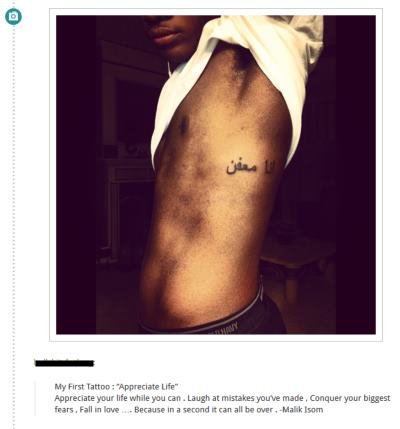 Someone else might have had this phrase tattooed on her skin, although I'm not sure if this is an actual tattoo or merely written with a pen: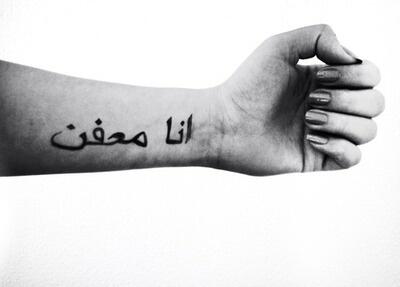 It's a shame really to think that someone has got these bad words inked on their skin when all they wanted was something encouraging. That's why I've decided to write a blog post about the real translation of "appreciate life".
Appreciate Life – Arabic Tattoo Designs
As with almost all translations, there are several possible Arabic renditions of the phrase "appreciate life". The two best candidates would be:
Appreciate life!
قدر الحياة qaddir al-hayaat
This would be the imperative of "to appreciate", i.e. "appreciate life!". However, the verb qaddara can also mean to assess or evaluate (i.e. appraising the worth or value of something).
In addition, the phrase could also mean "he valued life", as the written language does not make a difference between the imperative form and the third person singular past tense form (on the other hand there is a difference in pronunciation, but this is not reflected in writing).
One could add the diacritic marks to ensure that the word is pronounced in a way that is not ambiguous between the imperative form and the third person singular past tense form:
قدِّر الحياة qaddir al-hayaat
This way it's clear that it's qaddir (imperative) and not qaddara (3rd person singular past tense).

To express "I value life" in Arabic one would write:
أنا أقدِّر الحياة ana uqaddir ul-hayaat
Esteem for life
إعزاز الحياة i3zaaz ul-hayaat
i3zaaz means "love, affection, regard or esteem for something", so the translation would be "esteem for life" or "having a high regard for life". The word can also mean "strenghtening, reinforcing, or endearing".

I hope this blog post helps someone find a good translation of "appreciate life" for their Arabic tattoo.